Discussion Starter
·
#1
·
Mercedes Benz dealers join Ford by adding $50K 'market adjustment' to EQS pricing
One of the advantages of buying a vehicle directly from
Tesla
is their direct sales model. Visiting multiple dealerships to haggle and negotiate the best price is a thing of the past.
All you have to do is visit
Tesla.com
and order your car in as little as one minute, knowing you'll pay the same amount as your friend on the other side of the country.
That's not the case for buying a Mustang Mach-E or Ford F-150 Lightning.
Drive Tesla
has reported previously on several instances where
Ford dealers were adding
as much as $30,000 on top of the MSRP as a "market adjustment."
We can now add Mercedes Benz to that list after at least two dealers have been found adding $50,000 market adjustments to the new
EQS electric sedan
.
CNBC and Fox Business commentator Jon Rettinger was about to pick up his EQS 580 when he was called by the dealer to let him know he now had to pay $50,000 more.
That took the price from ~$120,000 (before options and taxes) to $170,000.
Needless to say Rettinger was not impressed. He cancelled his order and is now the owner of a
Lucid Air
.
Here's a story. I was originally going to get a

@MercedesBenzUSA

EQS 580. Even had one reserved and ready for pickup. The dealer called to inform me there was a $50k (not a typo) markup on the car. I passed. Infer what you will about the dealer model protecting consumers.

https://t.co/XIbzdzB5CX

- Jon Rettinger (@Jon4Lakers)

December 29, 2021
The local Mercedes dealership in Westminster, Colorado is also adding a $50,000 market adjustment on an EQS 450. A photo of the window sticker shared on
Reddit
shows the price going from $106,040 to $156,040.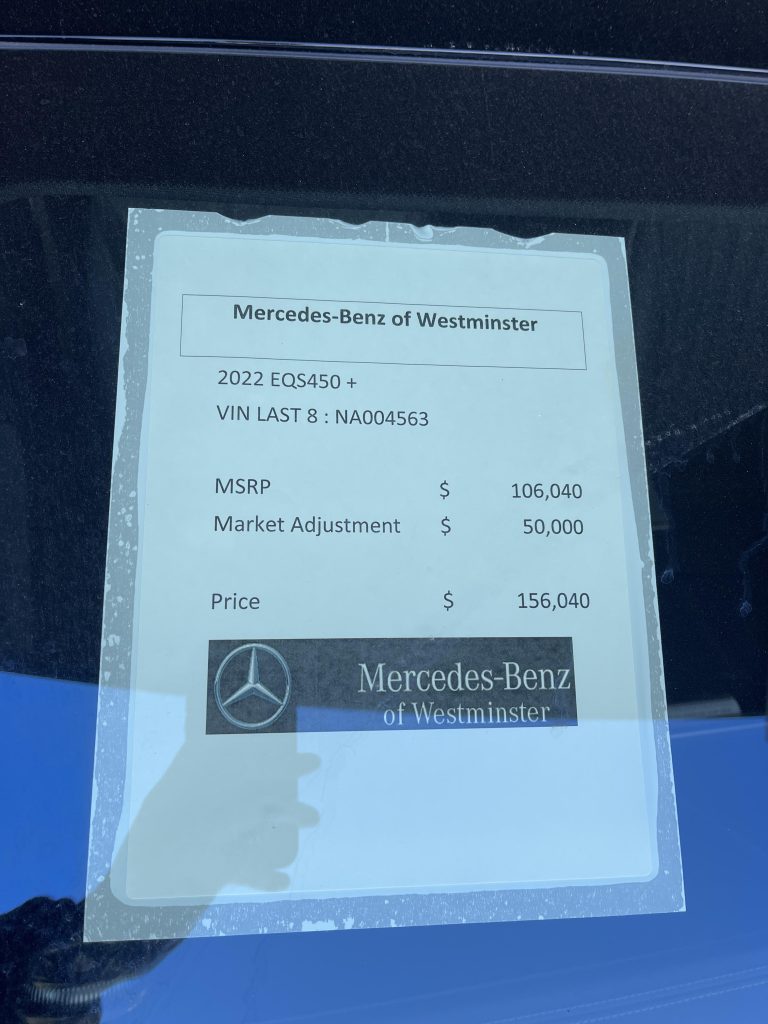 All of these examples show yet again why the dealership model is on the way out. They are independent from the automaker, and are free to set pricing as they see fit. The consumer has no recourse other than to try their luck at another dealership, but when they are all doing the same thing, it is difficult to escape.
Say what you want about all of Tesla's price adjustments this year, but at least they were transparent about it and at the end of the day, everyone pays the same price.
The post
Mercedes Benz dealers join Ford by adding $50K 'market adjustment' to EQS pricing
appeared first on
Drive Tesla
.
Continue reading...